The Building Blocks of Sustainable Living
The Building Blocks of Sustainable Living
Transportation

Lusail has built an integrated transport network over 200 km of roads and highways around Qatar's fast-paced, mobile future and alternative commute models, in line with national ambitions for a sustainable infrastructure.
LRT
Looking to reduce vehicular emission and saving energy, 25 stations across 38 km of rail of the Lusail Tram serve and connect all 19 districts of Lusail including the Marina, Energy City and Qatar Entertainment City. It is designed to be environmentally friendly and energy-efficient and connects to Doha Metro network.
Park and Ride
Adjacently, Lusail's 'park and ride' model also ensures the proximity of car parking stations to LRT stations, encouraging drivers to use them for shorter commutes. Public underground parking lots accommodate over 6,000 spots across the city.
Road System
A road hierarchy for Lusail has been developed to ease traffic and protect pedestrian amenities' by using extensive underground road tunnels. The city's interconnectivity between its various communities and districts is powered by state-of-the-art traffic management and information systems to provide efficient traffic flow.
Six primary roads form the main road network connecting with West Bay and Doha City in the south and Lusail highway in the east and the north.
In Qetaifan Islands, two of the vehicular bridges boast iconic structures, comprising self-anchored suspension bridges with steel superstructures, in addition to unique round pylons that connect the mainland to the North Island and South Island.
To improve traffic flow, grade-separated intersections have been incorporated within the network. This network connects the north part of Lusail City to two new major grade-separated intersections as part of Al Khor Highway.
Water Transport System
A water transport system, stretching alongside 30 kilometres of waterfront developments, will utilise the Lusail Marina and Grand Canal to move passengers to and from Lusail. There are 1200 berths for boats over 3 marinas in addition to provision of 20 water taxi stops along the waterfront.
Cycle and Pedestrian Ways
An extensive 76km of cycle route and pedestrian network is also planned throughout the city, and linked to Lusail's public transport system, including the LRT stations as well as public car parking areas. Additionally, two pedestrian bridges also connect the three Qetaifan South Islands. Each is a three-span cable-stayed structure with a post-tensioned concrete deck and stainless-steel pylon incorporating high-standard architectural finishes.
Sustainability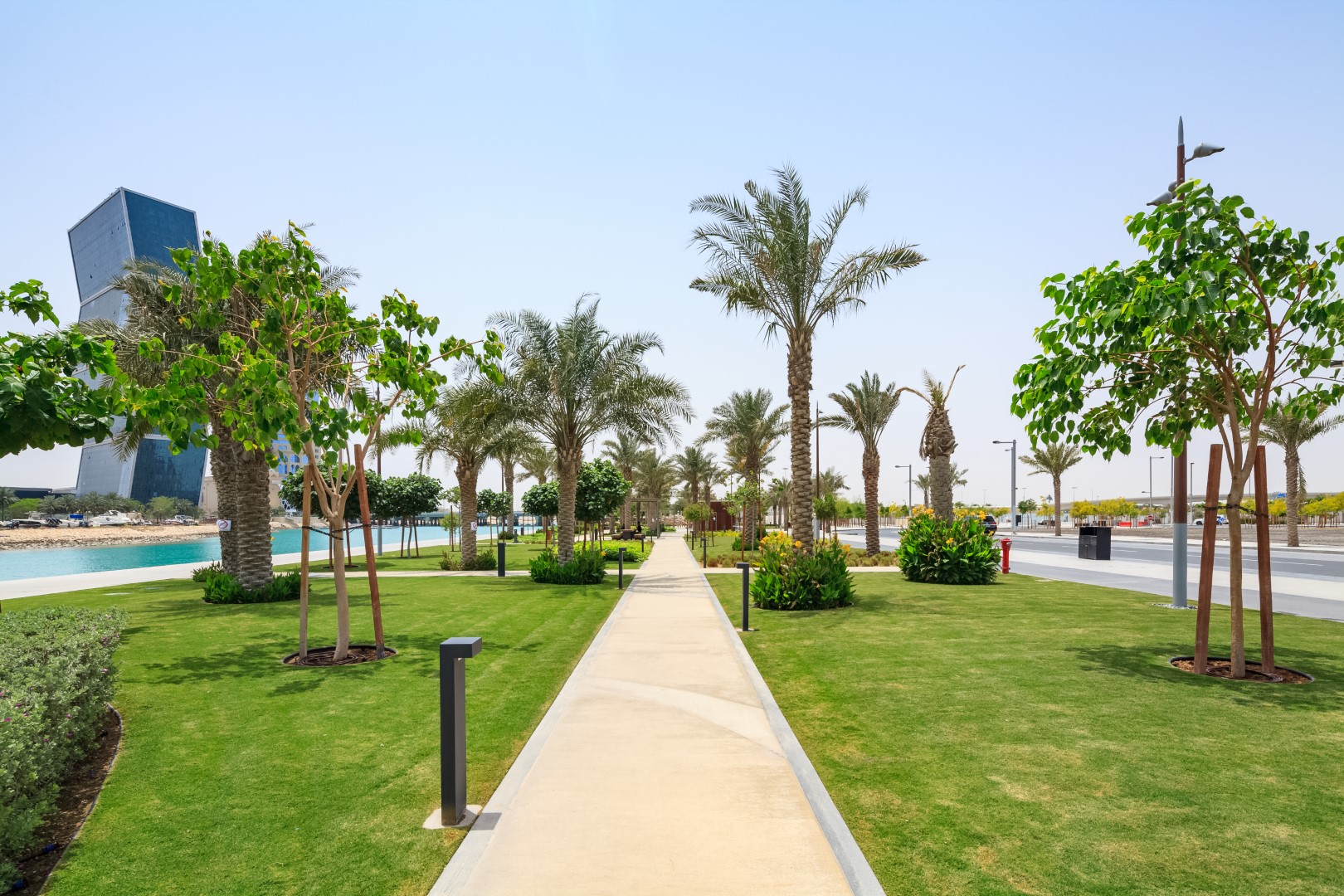 GSAS
Lusail was the first development in Qatar to endorse GSAS (Global Sustainability Assessment System), in the region pioneering. With a performance-based rating system for green infrastructure. Today, all Lusail buildings hold a GSAS rating of at least two stars, having successfully achieved targets for energy consumption efficiency, water conservation, local material sourcing and recycling, outdoor environment quality as well as management and operations.
Urban Connectivity
Lusail's urban connectivity and landscaping form a cohesive system to minimise congestion and pressures on Doha's transport infrastructure, utilise energy efficiently, shorten travel distances through mixed-use developments, and reduce contamination of the city's waterways while preventing associated risks and pollution.
Open Space and Landscape Amenities
Lusail's landscape strategy was designed to protect on-site natural habitats, enhance its ecological value, reverse desertification, promote biodiversity around 40% of total species of native vegetation, stretching over 3.5 million sqm.
These distinctive green landscapes are placed in harmony with one another and represent the distinguishing characteristics of its neighborhood district. Within the Fox Hills District alone there are 33 parks scattered throughout, providing approximately 10.3 hectares of open space. Crescent Park itself is divided into five (5) separate plots of natural landscapes.
The streetscapes of Lusail City include natural and planted landscapes on both sides of the roads and intersections including median works. Irrigation work consists of controllers, secondary main water supply lines, laterals, and necessary equipment to supply and operate the system. Hard landscape includes furniture, walkway and bike path paving, landscape lighting, street lighting and other structures. Natural landscape includes street tree planting and shrub and ground cover planting for verges and central medians.
Land and Water Preservation
The city has endorsed, accordingly, a water-sensitive landscape plan to minimise water consumption. The city's shoreline, extending over 27 kilometres, is also outlined by an artificial reef formation of stone revetment walls for various flora and fauna, and concrete retention walls creating an entirely new marine environment at the centre of the peninsula.
Infrastructure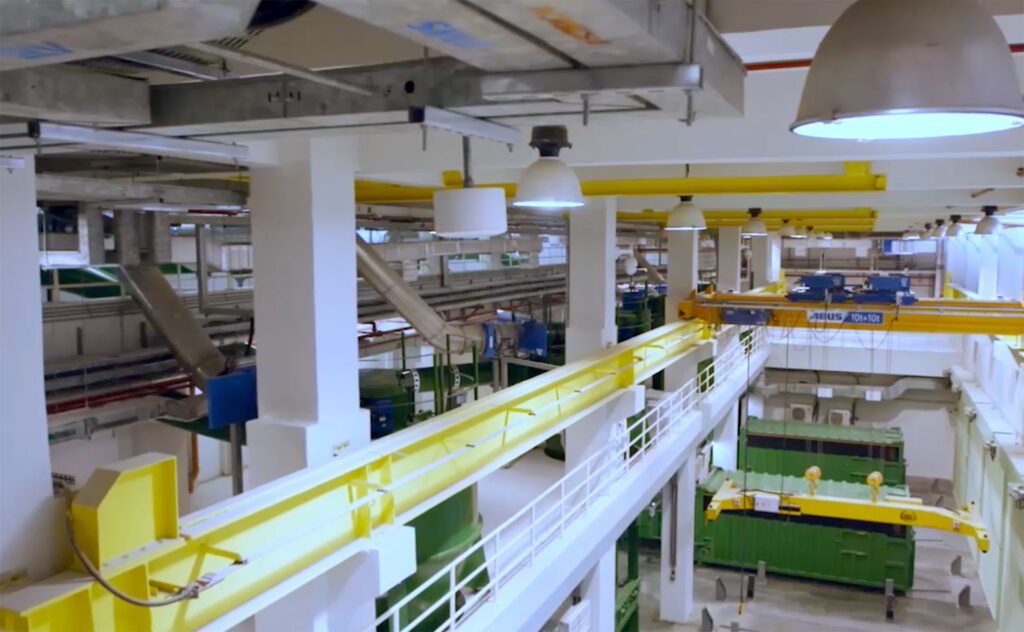 Gas Network
Lusail runs an underground Synthetic Natural Gas distribution network to connect every single plot in the entire city to the Natural Gas Network, thereby saving electricity consumption for increased convenience, safety and gas transportation. At 114 kilometres in length, it is one of the biggest domestic gas pipelines in Qatar offering a total usage equivalent to 28,000 m³/hr of natural gas.
Underground service utilities
Key sections of the wet and dry service networks will be installed within purpose-built reinforced concrete utility tunnels, which will allow for any maintenance work and future utility expansion without disrupting existing or completed infrastructure and building works. Maintenance will allow uninterrupted traffic flow and will not impact on the day-to-day routine of those living in the city.
An extensive network of 18 substations of 66kV and 11kV and power cables, built underground in consideration of Lusail's urban landscaping plan, receives and distributes Kahramaa power supply throughout the city. This system can accommodate and facilitate future maintenance and network expansion.
Stormwater Drainage Network
Lusail's stormwater drainage network prevents floods, minimises traffic-related disruption and ensures road safety for residents and visitors. Lusail's collected stormwater will be pumped out to sea via three large pumping stations – 4.6 kilometres of pipeline – in a controlled, automated process. A special diffuser at the end of the stormwater pipes allows water to discharge to the sea in a controlled manner. A series of three large stormwater pumping stations house the pumps that facilitate the planned discharge of the collected stormwater from the network to the sea via the large diameter outfalls.
District Cooling
The Lusail District Cooling System, designed and provided by Marafeq Qatar, will save 65 million tons of CO2 annually. Upon its completion, the system will serve about 1,000 buildings through 175 kilometres (supply and return) of underground piping from four cooling plants.
The system involves chilled water in pipes that are fed to each locality via underground tunnel in the Marina district and through an extensive network throughout Lusail City.
A central control facility will be responsible for operating, managing and maintaining the cooling system as well as achieving the following:
– Decreasing the overall power consumption of the project
– Decreasing the negative effect on the environment
– Securing financial resources and increasing production
– Better design, aesthetics & comfort level
Pneumatic Waste Collection (PWC)
The city's Pneumatic Waste Collection (PWC) 24KM system will generate 420 tons and 310 tons of organic waste with combustion and recycling potential respectively. The system allows domestic waste to be transported via a vacuum pipe network from the collecting inlets, located in each floor of the buildings, to a collection station. The waste will be trucked to its final location, such as a landfill or composting plan. The state-of-the-art system eliminates the need for traditional waste containers and trucks, reducing pollution, noise and improving the visual impact of waste management 24 hours a day and 365 days a year.
Sewage Treatment Plant
The city's sludge treatment and handling facility consisting of thickening, aerobic stabilization and dewatering using filter press, also ensures a minimum of 30% dry sludge at the outlet of the plant. The treated sewage effluent (TSE) generated in compliance with rigid environmental, health and safety requirements, is then redirected to serve Lusail's irrigation and landscaping needs.