BSI awards Lusail OHSAS 18001 certificate for commitment to occupational health and safety
BSI awards Lusail OHSAS 18001 certificate for commitment to occupational health and safety
28/10/2015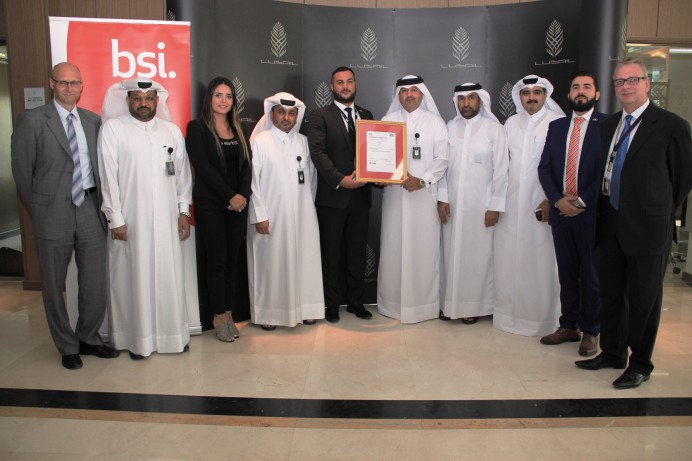 DOHA, 28 October, 2015: The British Standards Institution has awarded Lusail Real Estate Development Company the ISO 18001 certificate in recognition of its commitment to strong occupational health and safety standards, for thousands of workers employed at Lusail City.
The OHSAS 18001 accreditation is an internationally recognized and accepted management standard for occupational health and safety. It is used as a method of assessing and auditing Lusail's occupational health and safety management systems, providing a framework to identify, control and minimize safety risks to the workforce through the development of emergency response plans.
Engineer Essa Mohammed Ali Kaldari, CEO of Lusail Real Estate Development Company, said at the awards ceremony that occupational health and safety represent a top priority for Lusail, highlighting that the company has completed thousands of working hours without lost injury time.
"Lusail adopts strict occupational health and safety measures in line with the Qatar National Vision 2030. The OHSAS 18001 certificate reflects our commitment to compel all contractors and developers at Lusail city to implement to the highest safety standards," Kaldari said.
Waleed Al-Khal Fakhroo, Lusail's director of Health, Safety, Security, Environment, Logistics, and Quality said the OHSAS 18001 certificate puts a great responsibility on Lusail towards the development of occupational health and safety procedures.
Fakhroo said the advantages of obtaining such a certificate include the periodic follow-up by international organizations on the implementation of safety standards within Lusail Real Estate Development Company.
"Lusail has adopted numerous programs to encourage developers and contractors to adopt occupational safety standards. The company has honored contractors who performed 5 million, 10 million, and 15 million work hours without the occurrence of injury, and is providing various incentives to ensure the health and safety of Lusail's workers is a leading concern," he said.
Omar Rashid, General Manager of BSI Qatar said: "The OHSAS 18001 accreditation is one of the most difficult standards to achieve. It marks a milestone on the progressive journey of the Lusail Real Estate Development Company and we will ensure these exemplary standards are well maintained."
Since its establishment in 2008, Lusail Real Estate Development Company has adopted all necessary measures to protect the safety of its workers, preventing work related injuries through the implementation of a comprehensive program prioritising occupational health and safety.
The company frequently organizes workshops to raise awareness about occupational health and safety. Workshops bring together prominent experts to discuss safety standards, which is a fundamental priority for the Health, Safety and Environment department at Lusail Real Estate Development Company.