QC's delegation briefed on investment opportunities in Lusail's Commercial Boulevard
QC's delegation briefed on investment opportunities in Lusail's Commercial Boulevard
28/11/2020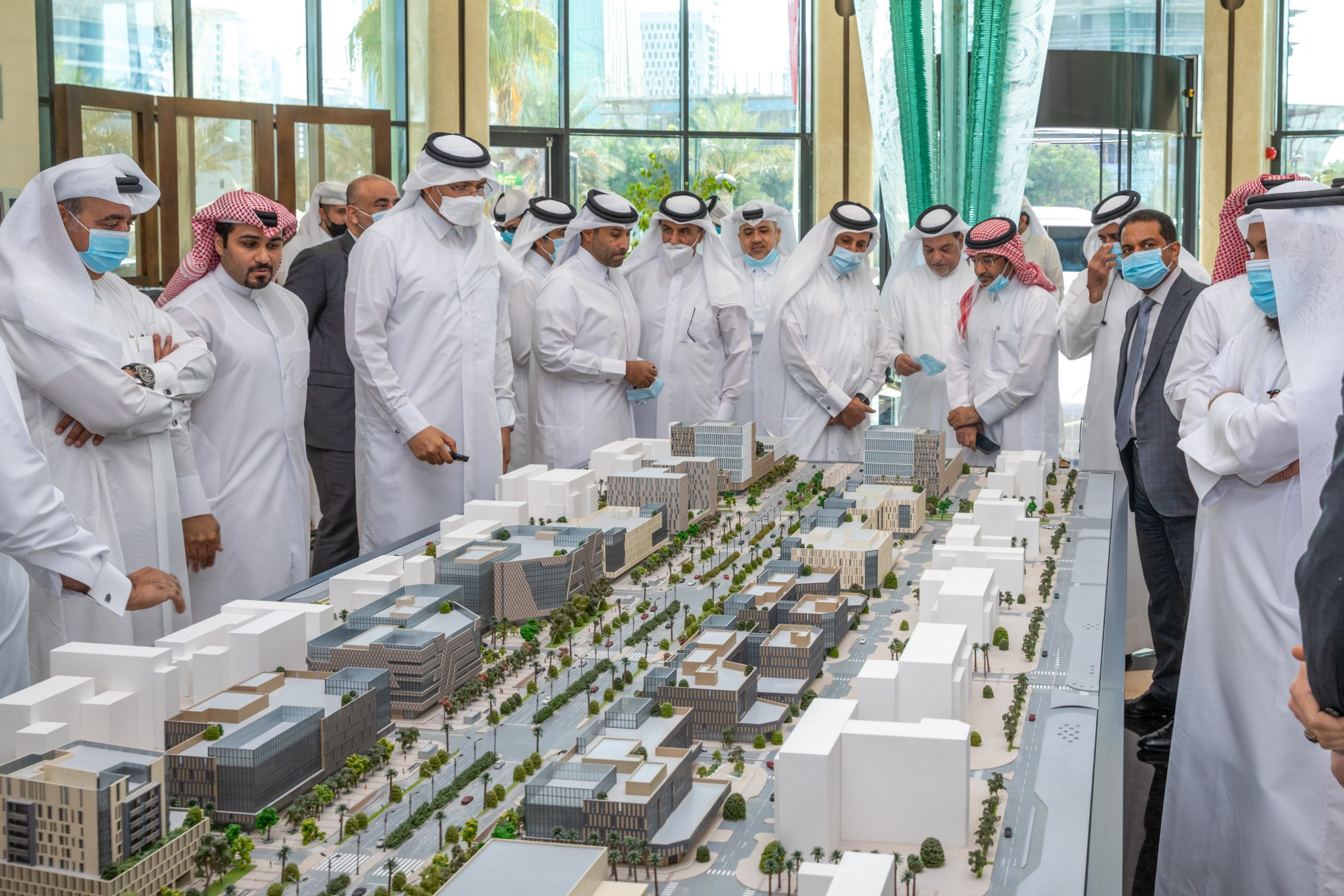 A delegation from the Qatar Chamber led by its Chairman HE Sheikh Khalifa bin Jassim Al Thani and First Vice Chairman HE Mohamed bin Twar Al Kuwari paid a two-day field tour to Lusail Commercial Boulevard project with the aim of learning about the investment opportunities available before Qatari and foreign investors.
The delegation also comprised several QC Board Members, the General Manager, and a galaxy of Qatari leading businessmen.
In statements following the tour, HE Sheikh Khalifa bin Jassim Al Thani said the Commercial Boulevard provides unique investment opportunities attracting Qatari and foreign businessmen and international brands owing to its strategic location in the heart of Lusail City, which is Qatar's future city and the first smart city in the region.
HE Sheikh Khalifa underscored the importance of opening the project before the 2022 World Cup, especially that it is located near Lusail Stadium, one of the tournament stadia, affirming that these features makes it an element of attraction for investment.
As part of the Chamber's efforts to attract more foreign investments to the state, Sheikh Khalida noted that it will promote the project during the events it hosts with foreign trade delegations or external events it participates in.
The Commercial Boulevard is a 1.3-kilometer long road that consists of 18 spacious buildings designed for multipurpose uses including retail, corporate offices, hotels, residential units, and convention centres.
About 51 percent of the project's infrastructure works was accomplished to include a wide range of shopping centres, 4 and 5-star hotels, offices, art galleries, libraries, studios, retail spaces, auto showrooms, eateries, and recreational areas.
Located at the heart of Lusail City and starts from Al Khor road west to towers of Lusail Plaza east, the Commercial Boulevard is a dynamic and diverse commercial and residential destination in Lusail City. It includes a group of luxurious multi-use residential units and shops designed in line with the highest international quality standards.
Commending the Qatar Chamber's tour, Chief Projects Delivery Officer at Qatari Diar Eng. Fahad Abdullatif Al-Jahrami said that it offers a distinct opportunity to highlight the investment opportunities galore in Lusail City before local investors, as well as before foreign investors who are willing to invest in Qatar, stressing that Lusail City is Qatar's future city and is likely to be one of the most paramount business centres within the coming few years.
Al-Jahrami expressed thanks to the Chamber's board members who are eager to learn about the development of the Commercial Boulevard project and the investment opportunities offered for investors in the upcoming period.
He pointed out that the Commercial Bouivard is designed in accordance with the best international standards to be a modern commercial district with eco-friendly buildings, indicating that it comprises an integrated transport network and underground parking.
It is noteworthy that the Commercial Boulevard is inspired by the Champs-Élysées avenue in France, with its towers surrounding the high gate, and car and pedestrian roads. It is a vibrant residential and commercial destination that encompasses a variety of shopping centres and entertainment facilities, giving residents and visitors unique lifestyle and entertainment experiences. with underground parking for more than 2000 vehicles.
The area also includes a network of advanced transportation systems, and underground car parks that accommodate more than 2000 vehicles.
Developed by Qatari Diar, Lusail City extends across an area of 38 square kilometers and can accommodate approximately 450,000 people.
The city of future offers a wide range of investment opportunities in residential, commercial, and retail units. It also includes an integrated rift of services that meets all the needs of its community, such as schools, medical institutions, entertainment, and shopping centers.